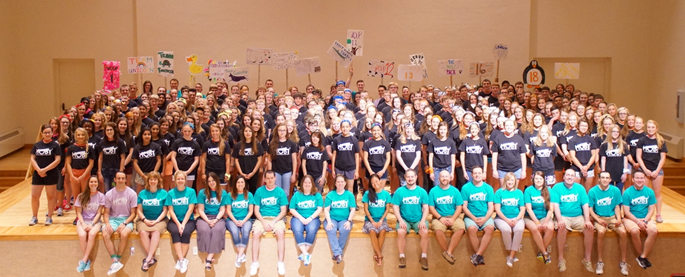 IOWA HOBY LEADERSHIP SEMINAR
JUNE 9-11, 2017
Drake University, Des Moines, Iowa
Our purpose is to teach you how to think, not what to think. Each year, Iowa HOBY hosts an annual leadership seminar designed to prepare our country's high school sophomores to become effective, ethical leaders in their home, schools, workplace and community. HOBY Ambassadors are selected from each of Iowa's public and private high schools each fall.
HOBY's vision is "To motivate and empower individuals to make a positive difference within our global society through understanding and action based on effective and compassionate leadership." Through a network of more than 4,000 volunteers nationwide, HOBY is able to provide lifelong leadership development opportunities that empower individuals to achieve their highest potential.
Iowa HOBY is celebrating more than 30 years of leadership seminars across the state and the accomplishments of more than 5,000 Iowa high school sophomores who have participated in the program since our first seminar in 1967. The 2017 Iowa HOBY Leadership Seminar will be held June 9-11, 2017 at Drake University in Des Moines, Iowa.
For more information about the 2017 Iowa HOBY Leadership Seminar, including the Ambassador selection process, how to get involved as a volunteer, or to make a financial contribution, contact the Iowa HOBY Co-Leadership Seminar Chairs, Allison Poss and Brock Holman
The dominant learning vehicle used at HOBY Seminars is the small group discussion sessions with peers. At each session, three to four panelists with divergent viewpoints are chosen to emphasize the critical thinking component of leadership: HOW TO THINK, NOT WHAT TO THINK.
Introspective opportunities to think about yourself as a leader.
Modeling or demonstration of leadership by the panelists and keynote speakers.
Practice leadership competencies.
Sessions with specific leadership themes.
Leadership games and simulation activities.
The actual teaching of leadership skills are components of HOBY's Leadership Seminars.